Darstellungstheorietage and Nikolaus Conference 2013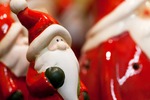 What
The Darstellungstheorietage is an annual meeting of (mostly) german representation theorists. Its location changes among various places in Germany.
The Nikolaus conference is an annual meeting at Lehrstuhl D für Mathematik (RWTH Aachen). The main aim is to bring together people who have recently finished a thesis on a topic in group or representation theory and some established people in this area. Particularly welcome are reports on projects with a computational aspect.
This year we will combine these two meetings in one 2 1/2 day event.
When
The talks will be scheduled from Thursday, December 5, 2013, about 2pm to Saturday, December 7, 2013, about 6pm.
Here, the talks on Thursday afternoon and Friday morning are considered as the "Darstellungstheorietage" part of the event. In these sessions talks can be up to 50 minutes long. Starting from Friday afternoon we switch to the usual "Nikolaus" mode, where all talks are restricted to 20 minutes.
Participants are also welcome to join the conference dinner on Thursday evening and the traditional Research Cambridge Style on Saturday evening in a nearby restaurant and pub (many participants will stay until Sunday morning).
Long coffee breaks and the "evening sessions" provide time for further discussions.
Where
The location for coffee breaks and the meeting point is at Lehrstuhl D für Mathematik, RWTH Aachen. This map shows our building, Templergraben 64. The Lehrstuhl D is on the second floor (German counting). The talks will be in nearby lecture rooms.
How to register
If you intend to come, please fill this registration form.
Please, also consider to offer a talk with your registration, just tell me a title (and possibly provide an abstract).
Accomodation
We had some rooms available in the RWTH guesthouse. But the guesthouse is now fully booked.
Therefore, we ask all further participants to book accomodation by themselves via an online booking site. For example, www.aachen.de (-> Tourismus -> Hotels) or booking.com work well in my experience.
Note that in December there is a popular Christmas market in Aachen (which is the reason why hotels do not let us reserve rooms without guaranteeing the booking). If you wait too long with booking accomodation it may be difficult to find a room for a reasonable price.
---
Questions and suggestions to Frank.Luebeck@Math.RWTH-Aachen.De.