General Information
What is this
The Nikolaus conference is an annual meeting at Lehrstuhl D für Mathematik (RWTH Aachen). The focus is on group and representation theory with an emphasis on computational aspects (but not only). Particularly welcome are young researchers who have recently finished a thesis in this area. This is an opportunity to meet some established people in this area.
---
When is it
The talks will be scheduled from
Friday, December 7, 2018, about 2pm to
Saturday, December 8, 2018, about 6pm.
All talks will be at most 20 minutes long.
We will have long coffee breaks and "evening sessions" which can be used for further discussions.
After the talks on Saturday we will have the traditional Research Cambridge Style session in a nearby restaurant and pub. For this reason many participants will stay until Sunday morning.
---
Where is it
The talks and coffee breaks will be in Pontdriesch 14/16. A lecture hall is in the ground floor, and Lehrstuhl D is in the first floor (German counting).
---
Where to stay
In December there is a very popular Christmas market in Aachen with plenty of non-local visitors. So, do not wait too long before booking accomodation.
For this, we suggest to use an online booking site like www.aachen.de (-> Tourismus -> Buchen -> Hotels), booking.com or similar sites.
(We had rooms in the RWTH Guesthouse, but unfortunately they are all booked by now.)
Registration
With this form you can register for the Nikolaus conference 2018.
Participants
So far, the following people intend to come:
and, of course, people from Lehrstuhl D and B at RWTH Aachen.
Please, register if you want to join this list.
Final Program
All talks were in Pontdriesch 14/16 in Hörsaal SeMath (008). Meeting point and coffee breaks were at Lehrstuhl D, first floor (German counting) in the same building.
Times for the talks are in LRLT (Lecture room local time, UTC +01:01).
Friday, December 7, 2018
Saturday, December 8, 2018
Final version from Wed, 12 Dec 2018 15:48:31 +0100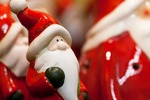 Address questions to Frank Lübeck
Last update: Wed, 12 Dec 2018 16:01:00 +0100